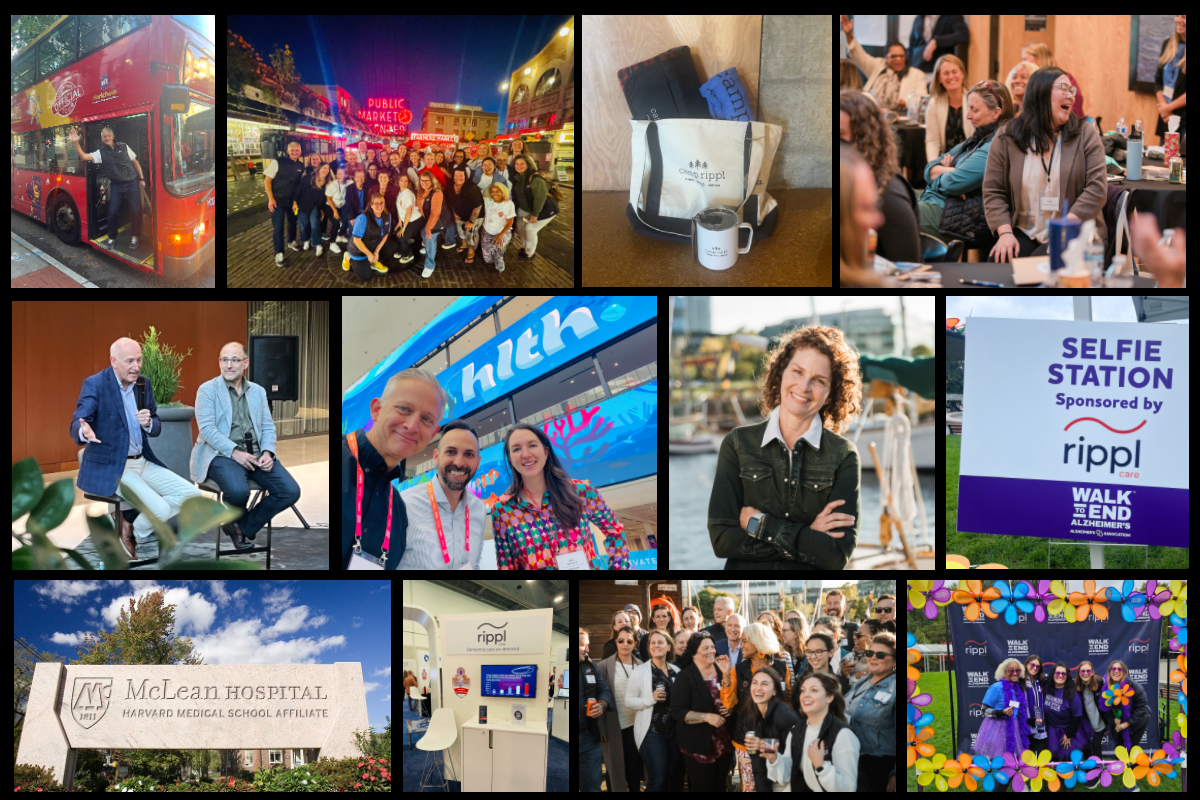 Friends of Rippl,
It's been an amazing few months for Team Rippl. We have lots of great updates to share below. Most importantly, we've dramatically expanded our referral network and are NOW  proudly serving patients referred from the majority of Washington State's top hospital systems  including Providence, Swedish, University of Washington, MultiCare, Evergreen and Virginia Mason. This is in addition to our many wonderful referral partners from primary care, senior living, and home health.
And, we're growing. Since August, we've doubled the number of patients we've served and are proving the Rippl model can have a very big impact on keeping our patients at home and out of the ER and hospital, while giving the family and caregiving team the confidence and tools they need to do the same. 
A few exciting updates
In addition, the industry has spoken! Major news in dementia has driven providers, payers, and pay-viders to our door to get our expertise on improving dementia care for both patients and caregivers: 
We are finally seeing the first glimmer of a payment model for the type of care we provide, and it was a big one! The Centers for Medicare and Medicaid Services (CMS) announced the

GUIDE program

on July 31 and is set to launch July 2024. This IS the Rippl model. Learn more about how Rippl is well prepared to help health care providers expand their capabilities to effectively serve this population

here

.

We've always known our evidence-based model of care could and would make a giant difference in patient clinical outcomes and cost. Now there is compelling  evidence  via a recently published

JAMA study

whose main take-away is collaborative dementia care programs are proven to reduce total cost of care by over $6,300 annually per patient. It's great to see Rippl's model validated by best-in-class research.

Advances in dementia drugs are ushering in the "

Start of a New Era of Alzheimer's Treatment"

. More than ever dementia will become a chronic condition where wrap-around care like ours will be essential to ensure the journey is liveable for both patients and caregivers.
But, beyond consistently providing excellent patient care, the most important thing we did in the last few weeks was to bring together the Rippl #founding40 for our first annual Camp Rippl. Ripplers from across the US gathered together in Seattle to build relationships, invest in our mission and learn from world-renowned experts in dementia care. Those 2 ½ days are among the most impactful we've experienced since we started the company last September. And, it undoubtedly will become an annual tradition. Read more about our experience here.
As always, thanks for your support, trust and confidence. We're on our way to helping a lot of very deserving seniors!
Kris Engskov
Co-founder & CEO, Rippl
PS – If you know someone in Washington State we can help, don't hesitate to reach out to our care team at 206-647-1007.