Specialized dementia care, ready when you are
We work with you, your patients, and their caregivers in a collaborative care model to help ensure happier, healthier outcomes.
That means our clinical dementia specialists and care navigators are always available and go the extra mile to support transitions of care, share notes, and consult on care plans with your team.
Dedicated Rippl care teams mean your patient and their caregivers have trusted reliable support available when they need it

Rippl has pioneered a new research-backed care model to dramatically expand access to high quality, integrated behavioral healthcare for seniors, their families and caregivers, on their terms.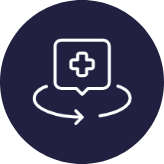 Wraparound
behavioral health
On demand virtual care for your population with conditions like dementia and their caregivers
Dedicated teams include a Nurse Practitioner, Licensed Social Worker and Care Navigator
Proactive care plans, crisis level support, diagnosis, medication management and therapy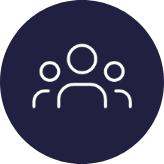 Rippl care pods work collaboratively with partners, coordinating with PCPs, specialists, and more
Rippl's integrated solution enables practices to offer neurocognitive and behavioral health care as a seamless service extension
Frequent check-ins and dementia-specific care planning unburden you from crisis management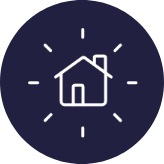 Greater access,
better outcomes
Keep patients thriving where they are, reducing ER visits and returns to acute care
Available 7 days a week; average time to first clinical visit <72 hours
In network with Medicare and Medicare. Working to be in-network for all WA plans

Your dementia care arm providing an equitable way to extend services


Accountable Care
Organizations
High-value services that reduce total cost of care and improve quality

Longitudinal support for dementia patients post discharge

Specialized dementia care for residents, reducing staff burden and 911 calls

Direct access to speciality dementia clinical care for your patients
Lean, innovative clinical care model led by trained dementia specialists
Community resource experts
Collaborate and navigate with patient stakeholders
Manage ongoing care planning
The center of our care model, actively managed by Care Navigator
Blueprint for patient & caregiver's ongoing longitudinal care
Ensures continuous cross-team collaboration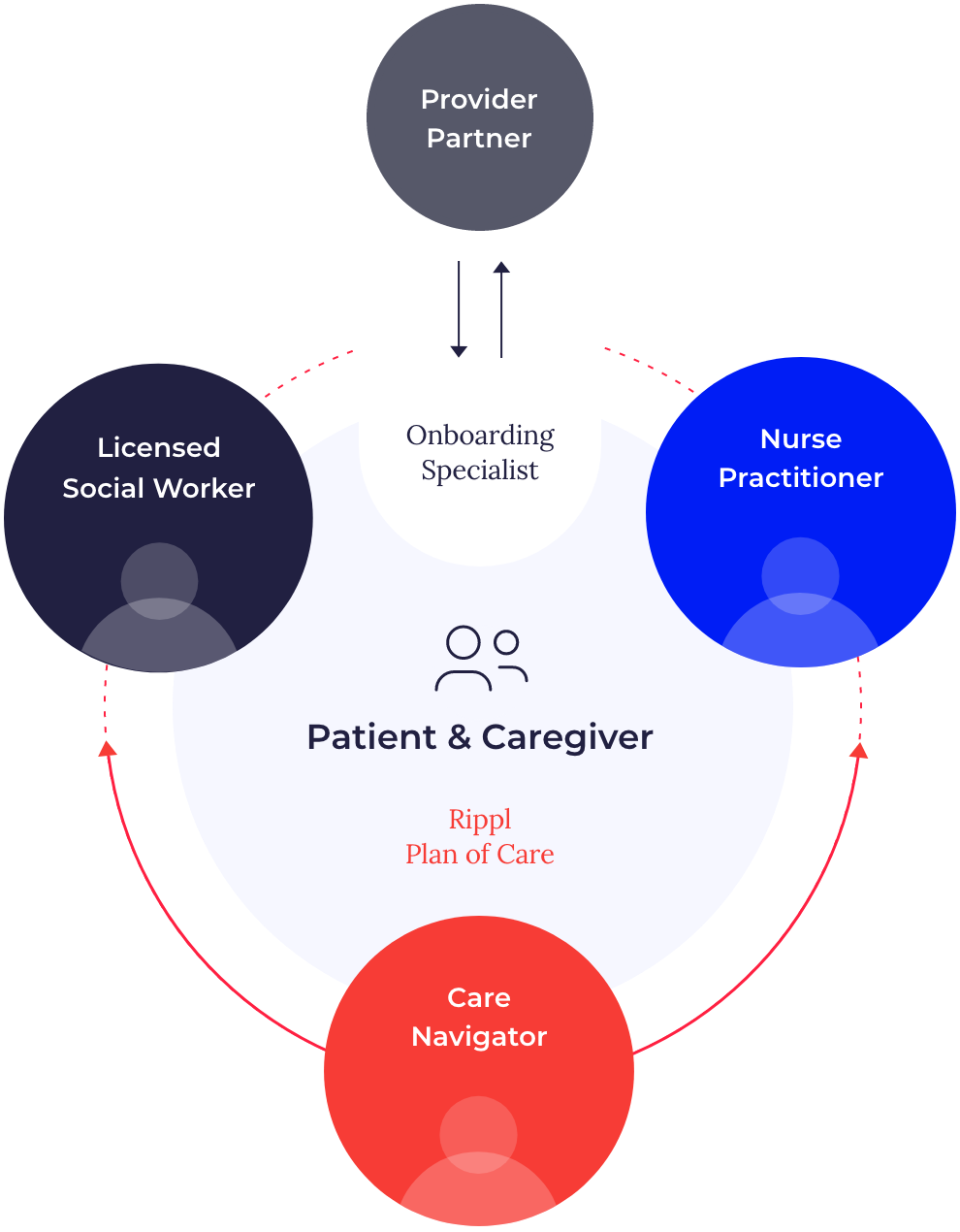 Medical evaluations
Appropriate medication management
Cross collaborates with specialists and PCPs
Psychosocial care visits
Psychotherapy and CBT
Complex case management and caregiver support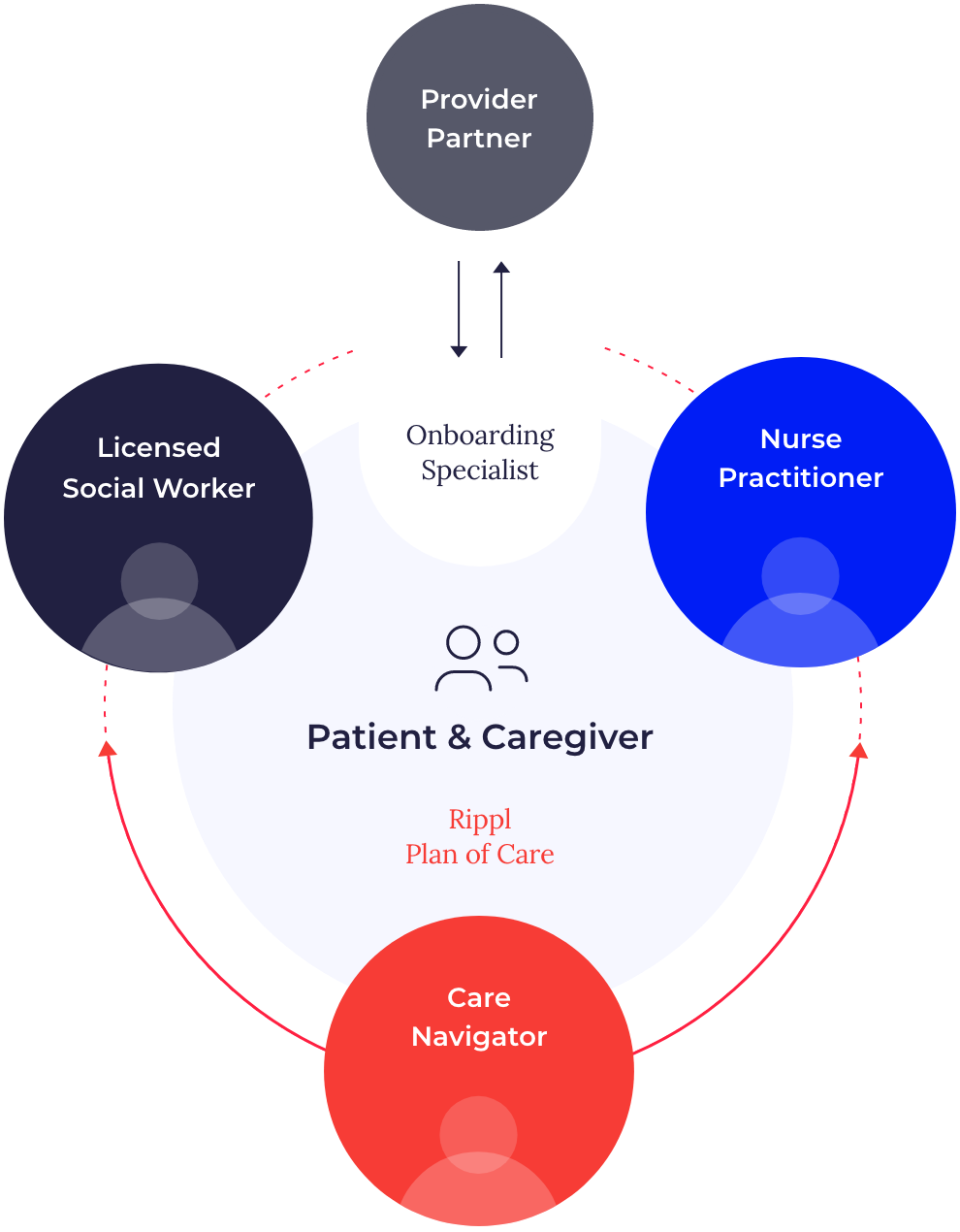 Community resource experts
Collaborate and navigate with patient stakeholders
Manage ongoing care planning
The center of our care model, actively managed by Care Navigator
Blueprint for patient & caregiver's ongoing longitudinal care
Ensures continuous cross-team collaboration
Medical evaluations
Appropriate medication management
Cross collaborates with specialists and PCPs
Psychosocial care visits
Psychotherapy and CBT
Complex case management and caregiver support
Caregiver Strain Index (CSI) screening
Respite options
Community-based resources
Support groups
SDOH screening and referrals
Continuous cross-team collaboration
Blueprint for ongoing support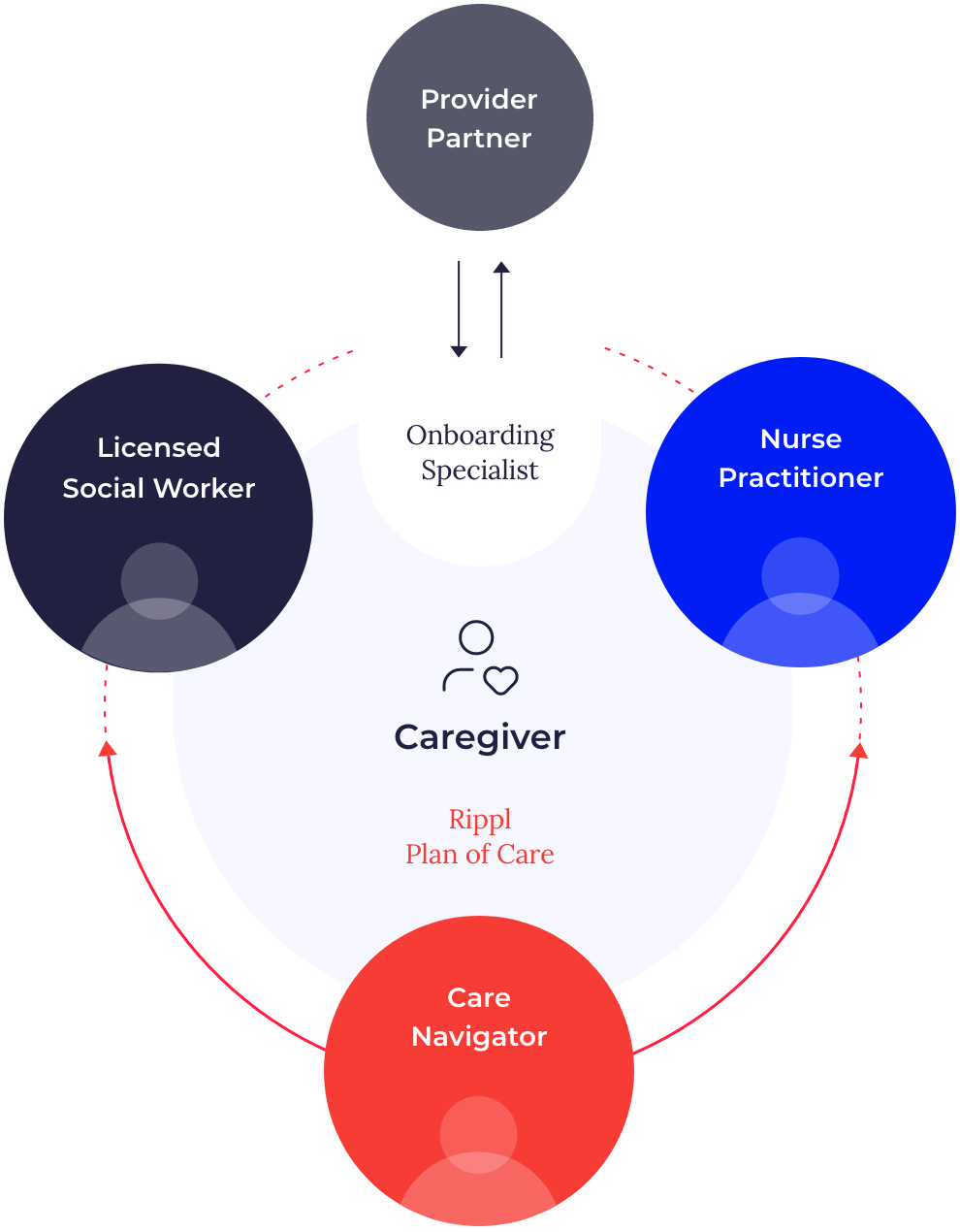 Family counseling
Individual counseling
Complex case issues
Advanced directives
Anxiety, depression
Self-care goals
Education and training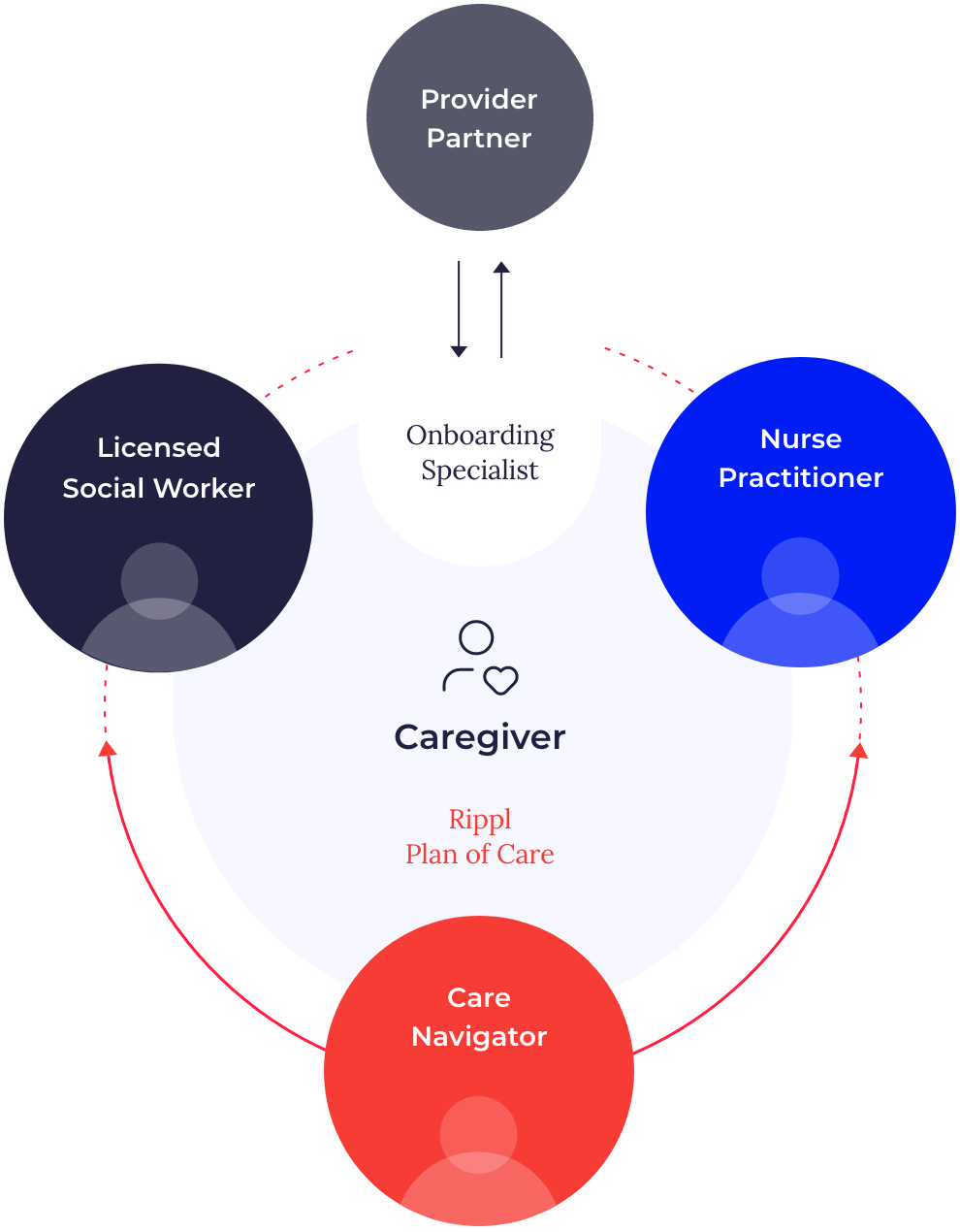 Caregiver Strain Index (CSI) screening
Respite options
Community-based resources
Support groups
SDOH screening and referrals
Continuous cross-team collaboration
Blueprint for ongoing support
Family counseling
Individual counseling
Complex case issues
Advanced directives
Anxiety, depression
Self-care goals
Education and training

Questions answered
Introductory visit scheduled within 72 hours
Patient portal activated

Thoughtful care plan design
Coordinated with PCP and specialists
Dedicated care team assigned
Personalized for patient, caregiver, and family

Ongoing support as long as needed
Care Navigator quarterbacks care plan
7 day a week availability and crisis care

Continuous feedback loop to entire care team (caregivers, family, PCP, and specialists)