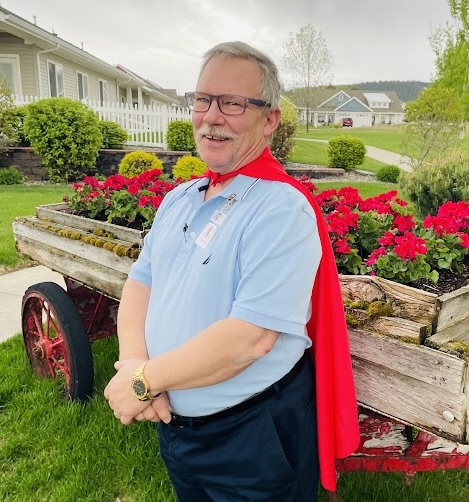 I'm in charge of building partnerships at Rippl Care and, through that work, I have had the privilege of witnessing the extraordinary dedication of healthcare professionals who go above and beyond to provide exceptional care to seniors with dementia and other behavioral health challenges. One remarkable individual is Paul Hammerschmidt, LPN, the nurse manager for 30 Assisted Living residents and 30 memory care residents at Guardian Angel Homes. Paul's unwavering commitment to personalized care and his deep understanding of the residents' needs truly sets him apart. I caught up with Paul at Guardian Angel Homes' 5 plus acre campus in Liberty Lake, WA to get his answers to the Rippl Changemaker Quiz. 
Tell us your "Why"
Paul's decision to join Guardian Angel Homes was motivated by the organization's unique approach to caring for seniors. Unlike many other facilities, Guardian Angel Homes believes in meeting residents where they are, treating them with the utmost respect, and acknowledging that their disease does not define their identity. Paul emphasized that personalized expressions, often labeled as "bad behavior," are embraced at Guardian Angel Homes. Rather than resorting to medication, the staff strives to understand the underlying needs and meet them accordingly. As Paul said, "Our job, our calling, is to embrace expressions, and try to understand that all behavior happens for a reason, and that it is incumbent on us as staff, as caregivers, to try and understand what that need is and meet it, not medicate it. In 37 years of working with the elderly, this is the first place I have worked at where we really do what we say we are going to do. It's very refreshing." For Paul, this philosophy aligns deeply with his own beliefs.
Tell us something surprising about you
"Oh, I'm a mixed up bag of different craziness, that's for sure. My wife and I ride motorcycles together – we enjoy the wind in our hair, it grounds us, it helps us to really be present in the moment when the whole world wants us to not." This commitment to staying grounded and present undoubtedly contributes to Paul's ability to connect with his patients and provide them with the care they deserve. With decades of experience in elder care, Paul's passion for his work shines through his dedication to his residents. 
Tell us a story about a recent patient experience that had an effect on you
Paul took a minute to answer this question. His job is full of amazing patient stories that would make you smile, cry, and get all the feels. In the end he couldn't pick just one!  "I have to share 2… The first was an 89 year old lady who lost her husband a little over a year ago. She packed away her grief so she could be "strong" and stoic. Like all grief, it won't stay packed away too long, and when hers came out, there was no one to help her through it. Sure, there were therapists available, but all they wanted to do was put her on meds, which she didn't want. She wanted to FEEL the grief and process it. Rippl gave her that opportunity. Her happy day was when she came to tell me she "fired" her Rippl provider because she didn't need her anymore!
The 2nd case is a 65 year old frontal lobe dementia client. She had all but given up hope in life, had literally lost the will to eat, the skills to use a fork, and was literally wasting away. I have to call out my friend Patrice who took the risk with me, who supported the husband, and truly had faith in the process. The only alternative we had was hospice and let this poor lady wither away and die, because nothing else was working. As I said to Patrice, it is only because I had the resource of Rippl and Patrice (the whole team of course!) that we were able to handle the complexity. She is now thriving." Wow! I left this conversation more inspired than ever. 
Paul Hammerschmidt's commitment to personalized care and unwavering belief in the dignity of every individual is an inspiration to everyone – he is a true Rippl Changemaker. He serves as a shining example of the positive change that can be achieved in elder care when individuals are seen, heard, and truly understood. Paul's powerful testimonial about Rippl Care's exceptional clinicians speaks volumes about the positive impact we can have on the residents and their families. Through this remarkable partnership, Guardian Angel Homes and Rippl Care continue to redefine the standard of care for seniors. Thank you Paul – enjoy your Rippl Changemaker Cape and wear it proudly!
Micheal Phillips is Rippl's VP of Strategic Partnerships