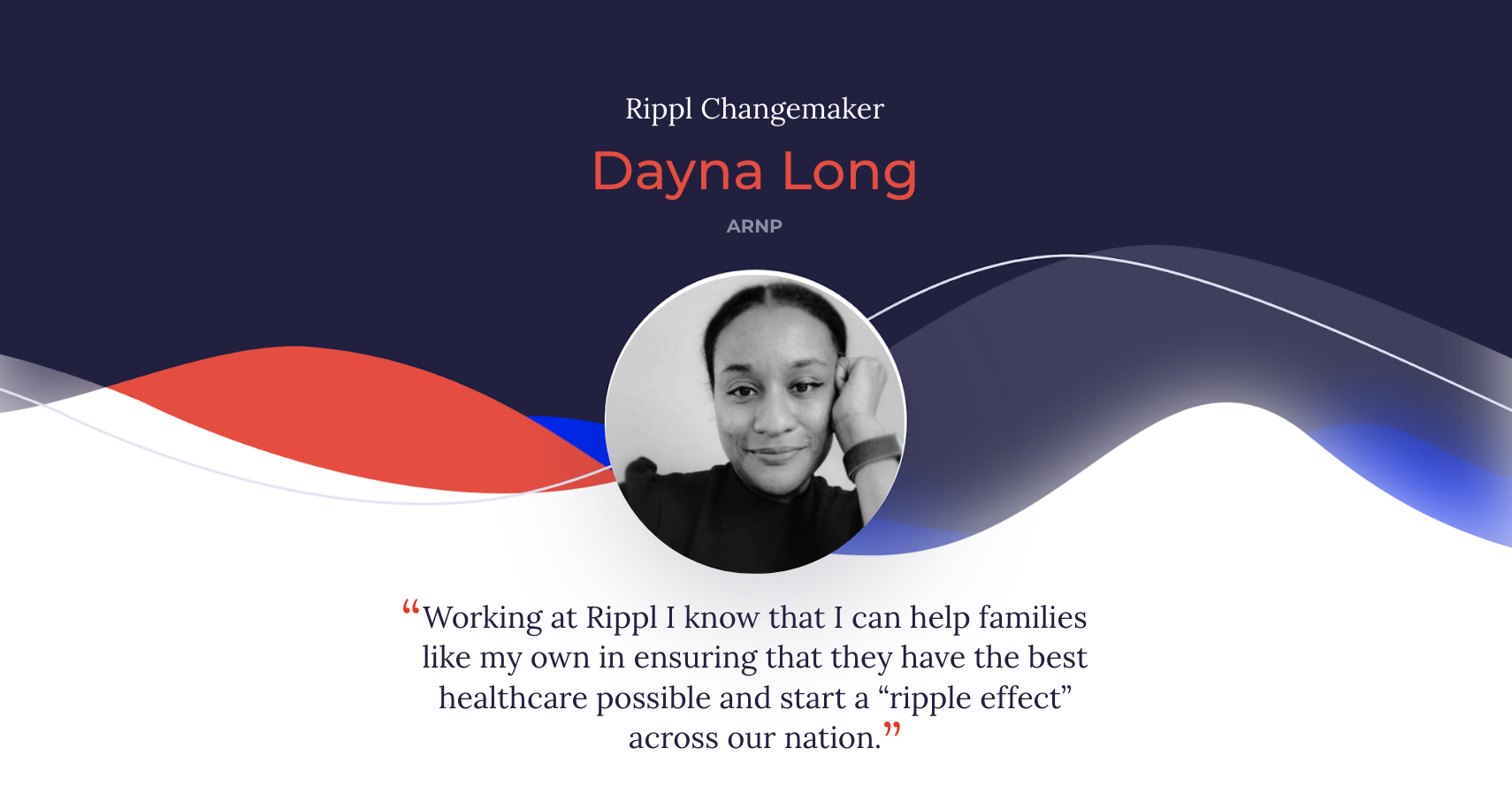 As Chief People Officer at Rippl, I have the honor of working with and learning from our rockstar clinicians. Their collective commitment to changing the game in dementia care is inspiring. Let's take Dayna, for example. Dayna Long is a highly accomplished Family Nurse Practitioner with over 15 years of experience in healthcare. Dayna beamed in from her home office in Chicagoland to take the Rippl Changemaker Quiz!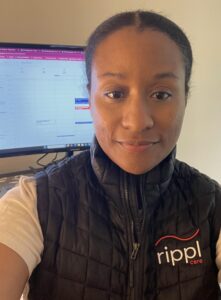 Tell us your "why" for joining Rippl.
I am passionate about behavioral/ mental health and the needs of vulnerable and marginalized communities. Growing up I was often in the hospital due to my own chronic illnesses. I was inspired to go into healthcare by the physicians and nurses who were there for me. I remember feeling cared for and safe and  have always wanted to have the same positive impact on my patients that those providers had had on me. I noticed during my time as an NP that certain groups of people were often left to the wayside and not given the same attention and access to healthcare. This was even more obvious with those who were elderly and/or had a mental/cognitive illness. Rippl has made a promise to change that and I want to be a part of that.  In my own family, my grandfather was diagnosed with Alzheimer's. He passed away before I was born, but to this day l hear stories of how he was either ignored or not treated well by the healthcare providers while living in the southern United States. His son, my father, now 83 years of age,  has his own cognitive health issues and may be in the initial stages of dementia. Working at Rippl, I know that I can help families like my own in ensuring that they have the best healthcare possible and start a "ripple effect" across our nation. 
Rippl is pioneering a new care model to dramatically expand access to high quality, wraparound behavioral healthcare for seniors, their families and caregivers. What is the most important thing you are doing right now to help achieve that?
According to the Alzheimer's Association only 7% of nurse practitioners held a primary certification in gerontological primary care and only 1.2% of psychologists specialize in geropsychology.  I have seen the impact this lack of access can have on patients and their families and am committed to changing this. I recently began the  psychiatric mental health nurse practitioner program at the University of Cincinnati. This post-masters certification will give me the knowledge necessary to care for our geriatric patients with more complex behavioral concerns.
Tell us a story about a recent patient experience that had an effect on you.
I had the pleasure of meeting with a patient and her husband who have a number of serious chronic illnesses in addition to dementia.  The patient's husband wanted Rippl's services to help with his wife's shadowing behaviors and separation anxiety. The patient was only close to her husband and would panic whenever he was out of her eyesight. The patient's husband was very stressed and in addition to not being able to function without having his wife nearby, he was concerned that she would be all alone and no one to help her if something were to happen to him. With the help of our social worker, I was able to educate the husband on how to cope and manage his wife's separation anxiety. Because he was an avid reader, I sent him literature on the treatment and causes of this anxiety. We set up a plan for him to find one other person that his wife could slowly build rapport with. The patient's husband was very pleased with the information that was provided. He said he'd gotten more information about the patient's anxiety from the email I sent than he had read in books for the past 30 or more  years. The husband seemed to have regained some hope and over time will be able to spend more time away from his wife. 
OK, now for the fun part. 
Who on the Rippl team do you want to celebrate today and why?
Just one!?!? We have so many team members that are simply AMAZING people, but if I have to choose just one it would be Patrice McNeil.  Patrice is a cheerleader for positive growth, change and harmony. She cares deeply about people and takes as much time as needed to make sure she is meeting her patient's needs. Patrice goes above and beyond when supporting her colleagues as well. As one of the providers with the most experience, she is always humble and kind. Never saying, "no" to anything, rather, she offers alternative options for complex problems. It is an honor to work with her.  I hope someone like Patrice takes care of me and/or my family if we ever need dementia/behavioral healthcare. 
What profession, other than being the rockstar clinician you are,  would you like to try?
Pilot! I was actually an aviation major for a semester my freshman year of college. Unfortunately, the cost of the program deterred me from continuing but I did enjoy a helicopter lesson once.
What is the last thing you binge-watched?
Bridgerton- Season 3 (this season ironically touches on mental illness)
Tell us a corny joke (a favorite activity in Rippl's g-chat).
"Where do fruits go on vacation?" "Pear-is!"
Dayna's commitment to lifelong learning and delivering exceptional care to her patients make her a true Rippl Changemaker. Keep changing the world – we are so grateful to have you on the team!
Jesse Schlueter is Rippl's Chief People Officer