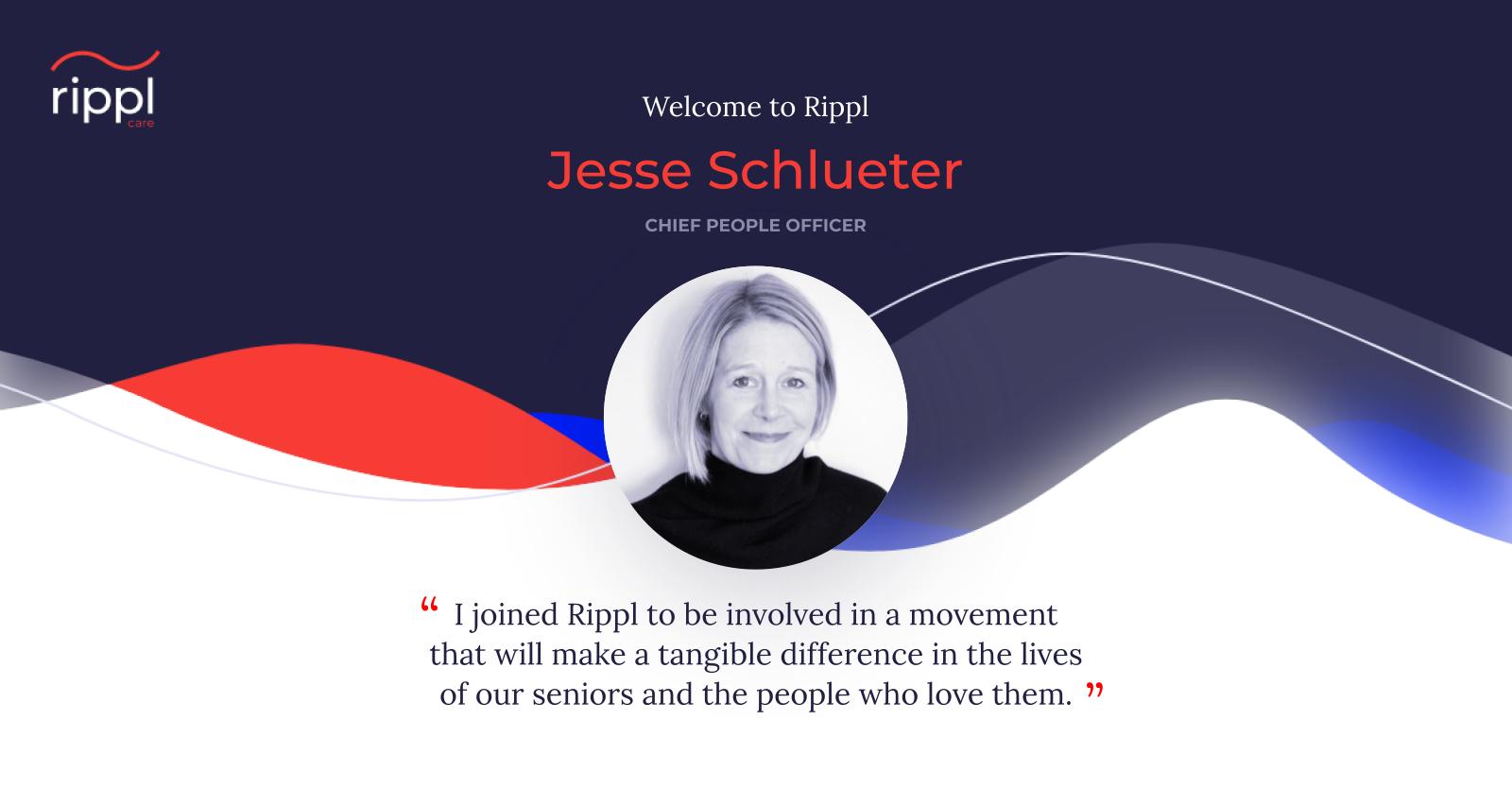 Today, we're excited to announce Jesse Schlueter has joined Rippl Care as our first Chief People Officer. I first met Jesse several months ago after sending an email to a bunch of friends and colleagues asking for help in finding a true 'needle in the haystack', a CHRO who was a genuine culture builder and keeper, one of those rare people leaders who is proven at successfully building large scale people operations with culture, talent development and growth at the core. Over the next few months, the team and I spent many hours getting to know Jesse the leader, the innovator, the talent builder, the Daughter, the Mom.  And, vice versa.  Jesse spent a lot of time getting to know us and understanding our vision for helping older people.  And, like all of us at Rippl, we found out Jesse had a deep personal connection to this disease.
Jesse joins Rippl from Nordstrom, where she most recently served as Senior Vice-President of Human Resources, Talent and People Operations.  Jesse led talent strategy for Nordstrom across multiple functions including talent management, learning and leadership, talent acquisition, HR ops and people analytics.  As most will know, Nordstrom is world famous for its focus on delivering remarkable service experiences through its people.  I am excited for Jesse to bring this DNA and these experiences to healthcare and to Rippl.  Previously Jesse held multiple senior roles at both Cablevision and Dunkin' Brands architecting learning and development programs for front-line service and corporate support teams across the globe.
At Rippl, we are a passionate, impatient, slightly irreverent, people-obsessed group of optimists & doers intent on building a movement to bring mental healthcare to our aging population. We believe there is no more noble mission than caring for people at this critical stage of life, and we're ready to take action.  As we set out to build a new company with 'clinician obsession' at its core, I can't imagine a better equipped leader, optimist and doer than Jesse to lead this important work.  From the first time we met her, we knew she had the calm confidence, the deep experience, the EQ, the leadership skills and know-how to help us build the platform, place and culture our unique clinicians will thrive in.
And, frankly, won't find any place else in healthcare.
We couldn't be more excited to welcome Jesse to Team Rippl.
Kris Engskov
Co-Founder & CEO/Rippl